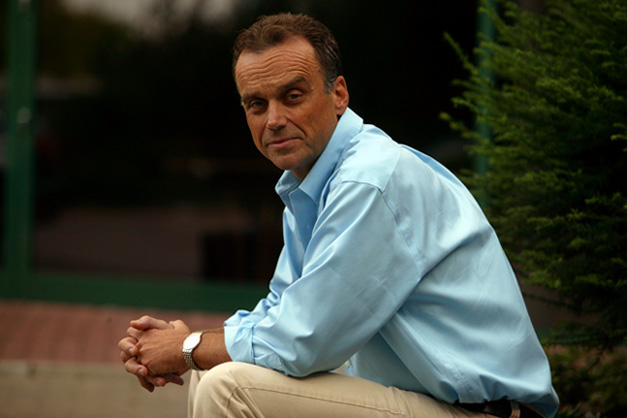 Andrew Nagorski is an award-winning journalist and author who spent more than three decades as a foreign correspondent and editor for Newsweek. From 2008 to April 2014, he was vice president and director of public policy for the EastWest Institute, an international affairs think tank. Nagorski is now based in St. Augustine, Florida but continues to travel extensively, writing for numerous publications. His recent books -- Hitlerland: American Eyewitnesses to the Nazi Rise to Power (Simon & Schuster, 2012), The Nazi Hunters (Simon & Schuster, 2016), and 1941: The Year Germany Lost the War  -- have all received rave reviews. In a starred review, Kirkus calls his new book, Saving Freud: The Rescuers Who Brought Him to Freedom (Simon & Schuster, August, 2022), "a riveting page-turner...a fine biography." Publishers Weekly calls it "an invigorating look at a lesser-known chapter of Freud's well-documented life."
From January 2000 to July 2008, Nagorski served as senior editor for Newsweek International, handling the editorial cooperation between the parent magazine and its expanding network of foreign language editions and other joint venture partners. The new magazines that were launched during his tenure were Newsweek Arabic in 2000; Newsweek Polska, which has become Polands leading newsmagazine since it was launched in 2001; Newsweek Russia in 2004; and Newsweek Argentina in 2006.
As Newsweek's Berlin bureau chief from 1996 to 1999, Nagorski provided in-depth reporting about Germany's efforts to overcome the legacy of division, the immigration debate, and German-Jewish relations. From Berlin, Nagorski also covered Central Europe, taking advantage of his long experience in the region and his knowledge of Polish, Russian, and German.
From 1990 to 1994, he served as Newsweek's Warsaw bureau chief, and he served two tours of duty as Newsweek's Moscow bureau chief, first in the early 1980s and then from 1995 to 1996. In 1982, he gained international notoriety when the Soviet government, angry about his enterprising reporting, expelled him from the country. After spending the next two and a half years as Rome bureau chief, he became Bonn bureau chief.
From 1978 to 1980, Nagorski was the Hong Kong-based Asian regional editor for Newsweek International and then as Hong Kong Bureau Chief. After joining Newsweek International in 1973 as an associate editor, he was its assistant managing editor from 1977 to 1978.
In 1988, Nagorski took a one-year leave of absence to serve as a senior associate at the Carnegie Endowment for International Peace in Washington, D.C. In recent years, he also served as an adjunct professor at Bard College's Center for Globalization and International Affairs, teaching a course on international affairs writing. He is chairman of the board of the Polish-American Freedom Foundation, a member of the board of the Israel Council on Foreign Relations, a member of the Council on Foreign Relations and the Overseas Press Club, and a former member of the board of the Jacksonville World Affairs Council.
In 2009, Poland's Foreign Minister Radoslaw Sikorski presented Nagorski with the newly created Bene Merito award for his reporting from Poland about the Solidarity movement in the 1980s. In 2011, Poland's President Bronislaw Komorowski awarded him the Cavalry Cross for the same reason. In 2014, Poland's former President and Solidarity leader Lech Walesa presented the "Lech Walesa Media Award" to Nagorski "for dedication to the cause of freedom and writing about Poland's history and culture." The Overseas Press Club has also honored him for his reporting.
Aside from the previously mentioned titles, Nagorski is the author of the non-fiction books: Reluctant Farewell: An American Reporter's Candid Look Inside the Soviet Union (New Republic/Henry Holt, 1985); The Birth of Freedom: Shaping Lives and Societies in the New Eastern Europe (Simon & Schuster, 1993); and The Greatest Battle: Stalin, Hitler, and the Desperate Struggle for Moscow That Changed the Course of World War II (Simon & Schuster, 2007). The New York Review of Books described The Greatest Battle "as a new and beautifully researched account of what had been a poorly understood part of the war." His first novel, Last Stop Vienna (Simon & Schuster, 2003) about a young German who joins the early Nazi movement and then is propelled into a confrontation with Hitler, was on the Washington Post's bestseller list.
Nagorski taught social studies at Wayland High School in Massachusetts before joining Newsweek. Born in Edinburgh of Polish parents (who shortly after his birth emigrated to the United States), he attended school overseas while his father was in the U.S. foreign service. He earned a B.A. magna cum laude and Phi Beta Kappa from Amherst College in 1969 and studied at the Jagiellonian University in Krakow, Poland.
Nagorski and his wife, Christina, have four children: Eva, Sonia, Adam and Alex.