We find ourselves at the bleeding borders of Hitler's Third Reich, nearing the peak of its power in Europe, with Andrew Nagorski, author of 1941: The Year Germany Lost the War. We watch as Hitler's miscalculations, deteriorating mental state, and policy of terror, give the United Kingdom powerful new allies in the U.S. and U.S.S.R. But these moves didn't just sealed National Socialism's fate. They sowed the seeds of the postwar shattering of the Big Three's alliance that led to the 50-year Cold War chill.
Andrew Nagorski gives us a fuller picture of these key 12 months of the 20th Century, employing his skills as a veteran author, interviewer, and foreign correspondent. We last chatted with him about his book, The Nazi Hunters, which you can find in our archives at HistoryAuthor.com, iTunes, our iHeartRadio channel, GooglePlay, or wherever you're listening now.
Visit AndrewNagorski.com or follow @AndrewNagorski on Twitter for more on these books and other, including, Hitlerland: American Eyewitnesses to the Nazi Rise to Power.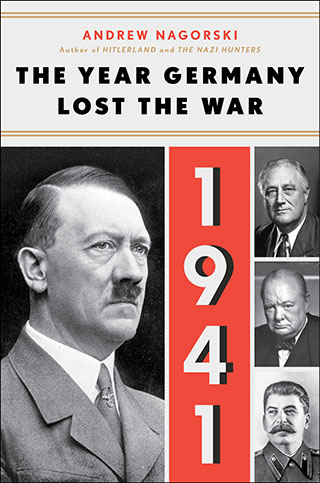 A fresh look at the decisive year 1941, when Hitler's miscalculations and policy of terror propelled Churchill, FDR, and Stalin into a powerful new alliance that defeated Nazi Germany. 
Now in Paperback